7 Minimalist Accessories for Everyday Wear
Do you enjoy wearing jewelry? If so, you should compile a list of the best minimalist jewelry for everyday wear. When it comes to jewelry accessorizing, you don't want to appear overdressed. Whether you prefer gold, sterling silver, or a mix of gemstones, selecting the perfect pieces of fine jewelry is difficult.
Minimalist jewelry has the potential to last a lifetime. As a result, its wearability and durability compensate for the price. Minimalist jewelry, on the other hand, does not have to be boring. Without being boring, the right pieces can bring a timeless approach to subtle, stand-alone statements. Minimalist jewelry, whether it's a necklace, ring, bracelet, or earrings, is always appropriate for everyday wear. This is due to its ability to easily match any look to any location.
You can keep a minimalist wardrobe while still keeping up with the latest fashion trends. You can stay stylish without sacrificing minimalism if you occasionally purge items from your cupboard. Your closet should only contain items that you enjoy wearing.
A Minimalist Guide to Accessories
Do you want to jazz up your minimalist outfits? It would be beneficial to choose your jewelry with care and intention. To do so, consider the following questions:
Do you need to pair your outfits with accessories? 
The answer is no. It is a personal preference. You can accessorize your minimalist look with just your wedding ring and a pair of hoop earrings. You can wear bracelets or statement earrings to add style and make things interesting.
If you want to accessorize, where do you start? 
To begin answering this question, consider the type of jewelry you prefer to wear. Do you appreciate minimalist jewelry brands? Perhaps you want to highlight specific fine jewelry or contemporary jewelry brand. Do your bracelets make it difficult for you to type efficiently at work? Do your dangly earrings get caught in your hair?
The function is one of the primary goals of minimalist jewelry. To keep things simple, consider investing in sterling silver or solid gold jewelry. These two precious metals can be worn with any outfit.
If you already love jewelry, how do you wear it?
Just because you want to dress like a minimalist does not mean you can't wear different types of jewelry like you used to. Jewelry should be enjoyable. There should be no hard and fast rules. The key to wearing your existing bling is to let one piece take center stage. As a result, avoid wearing your diamond earrings with nose rings or statement necklaces. If you must wear other jewelry, wear a bracelet to make your earrings the focal point.
Daily Wear Accessories for the Minimalists
Minimalist accessories are ideal for everyday wear because they allow you to quickly achieve a look for any occasion. They can assist you in making a statement and expressing your style without the use of bold designs. For your minimalist taste, here are some dainty and elegant jewelry options:
1.    Drop Earrings
Drop earrings can be worn with any casual outfit. Elegant drop earrings, on the other hand, may change that rule. They are fashionable because of their effortless, simple style. Do not be afraid to wear them with even the most basic outfit.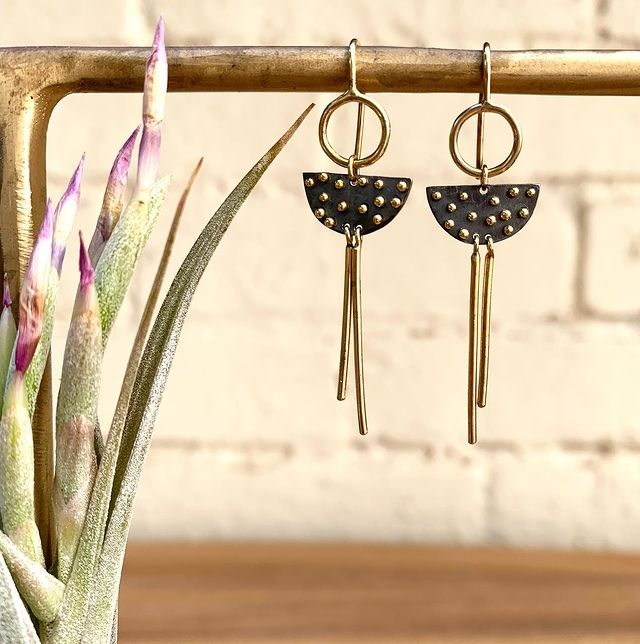 2.    Tennis Chocker
A tennis choker is a simple yet elegant necklace that can be worn to complement your outfit. If you want a diamond-studded tennis necklace, look for one with a narrow width that fits snugly around your neck.
3.    Skinny Rings
Skinny rings are among the most popular and fashionable types of minimalist jewelry. Giant stone rings, which were popular in the past, are no longer sought after. When shopping, look for the narrowest ring. You can try them out by wearing two or more on the same or different fingers. It'll still look nice.
4.    Stud Earrings
Look for tiny earrings with a straightforward design. They do not need to be as eye-catching as gemstones or pearls. This will make them more convenient to wear on a daily basis. Furthermore, stud earrings make excellent gifts because they can easily be incorporated into any jewelry collection.
5.    Dainty Bangle
If you want to go for a minimalist look, avoid thick, clanky gold pieces. Some minimalist jewelry brands sell stylish bangles that are sleek and chic. They don't even have to be stacked on top of the bracelets.
6.    Delicate Charm Necklace
Do you have a dainty charm necklace crafted with diamonds, pearls, gold, or other stones? If so, it is a great minimalist piece of jewelry for daily wear. You can pair it with any outfit. You can also pair it with customizable jewelry to match your personality.
7.    A Brooch
A brooch, whether new or antique, is a simple and one-of-a-kind accessory that never goes out of style. Simply attach it to your dress to add some sparkle and style and make you look stunning. It will also serve its primary purpose of keeping your clothes closed.
Bottom Line
Minimalist jewelry has been popular for a long time and is still popular today. The bare minimum, also known as barely there or naked jewelry, is the most desired option. Minimalist jewelry is widely available and comes in a variety of styles.
Do You Want Minimalist Jewelry for Everyday Wear?
At the Phoenix, bracelets, necklaces, earrings, and even rings can be purchased at the store and online. Minimalist jewelry should not feel forced; instead, it should be enjoyable and exciting. You don't need to wear too many pieces at once to look good and make a statement.
Are you looking for the perfect necklaces, bracelets, rings, earrings, or hair accessories to fit your minimal style? If so, look no further than The Phoenix.
For more information, visit us at 1514 Wisconsin Avenue NW, Washington, DC 20007, or call (202) 338-4404 today.
---
Leave a comment
Comments will be approved before showing up.