Best Gift Guide For The Outdoor Enthusiast
Are you looking for the perfect outdoor gifts for the outdoor enthusiast in your life? Whether they are hikers, campers, nature lovers, wildlife photographers, or survivalists, there are plenty of great gifts to choose from to make their next adventure even more fun and exciting.
From the essentials for hiking and camping to the perfect gifts for any outdoorsman, this gift guide has something for every outdoor enthusiast.
Read on to find the perfect gift ideas for the outdoor adventurers in your life.
Best Gifts for Outdoor Lovers: Ideas for Hikers, Campers, Travelers, and More
The best gifts for outdoor enthusiasts include:
VELVET BY GRAHAM & SPENCER | RUBY JACKET
This jacket is a stylish gift for an outdoor enthusiast because it is made of lightweight technical fabric that offers protection from the elements. In contrast, its quilted style makes it perfect for layering.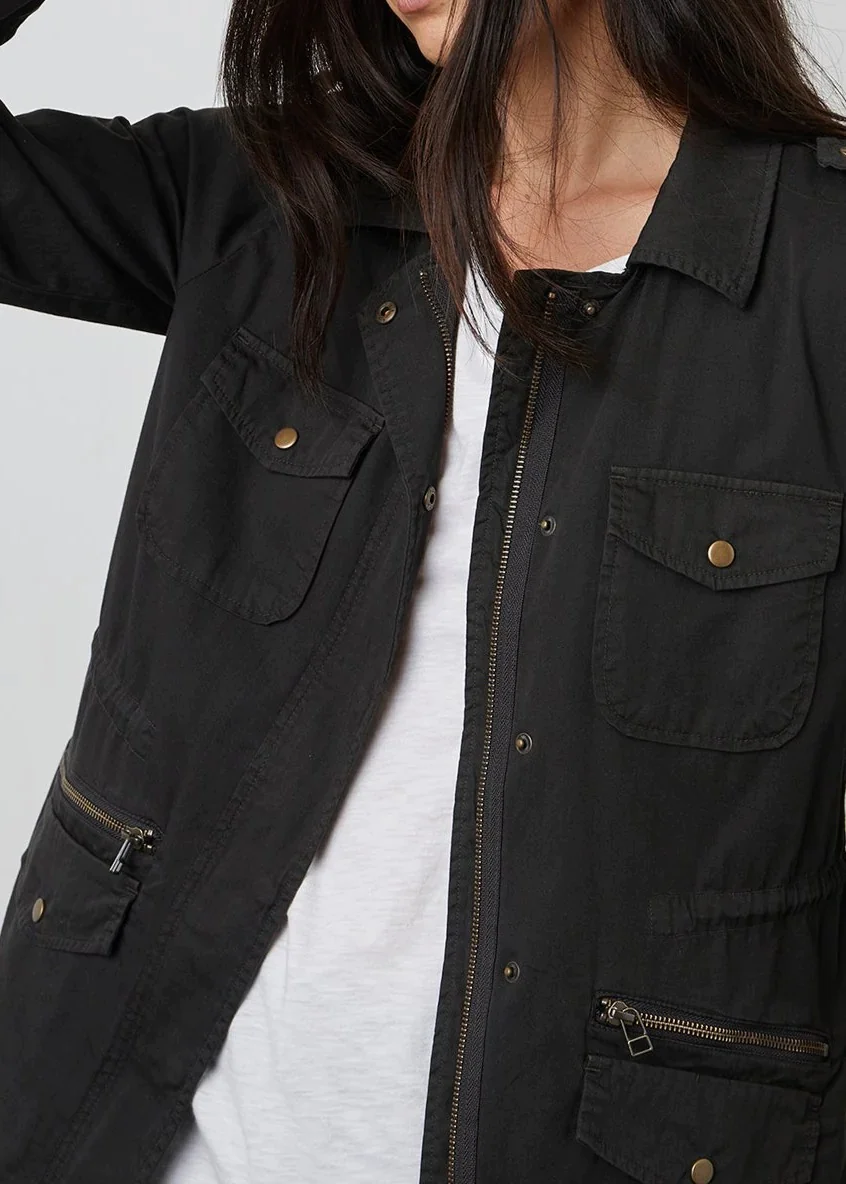 It is crafted from soft cotton twill with a zip and button closure. The Ruby Jacket is ideal for transitioning seasons or adding extra warmth when enjoying nature outdoors. It also has two front flap pockets with zip closure to keep your essentials secure while you're out and about. With this jacket, your favorite outdoorsy person will stay protected and look fashionable even in chilly weather conditions.
UASHMAMA GEMMA LARGE BAG
This stylish leather bag from Uashmama is the perfect gift for outdoor women. The exterior is made from 100% organic paper, and the interior has an organic cotton lining. This bag is both functional and fashionable. It is spacious enough to hold all your everyday needs and has a separate pocket inside to store your smaller items. The Gemma Large Bag also has a comfortable shoulder strap, perfect for your next camping trip.
NOT MONDAY, MARLOWE CARDIGAN
The Marlowe Cardigan is a great gift idea for outdoor enthusiasts who like to look good during outdoor adventures.
Its unique design features long sleeves and two pockets, so your loved one can take their belongings anywhere they go. Crafted from premium, heavyweight, 100% cashmere, this cardigan feels soft and comfortable against the skin, making it a great choice for long days spent outside. Plus, its natural camel color provides a timeless look that'll pair well with any outfit. Whether they're hiking or simply running errands, your giftee will love how cozy and chic this cardigan looks and feels.
FRANK & EILEEN MCLOGHLINS SHIRT JACKET
Your outdoor adventurer friend will surely appreciate this sturdy, stylish shirt jacket. This piece has double chest pockets and a throw-on-and-go style to ensure maximum comfort. This shirt jacket is extremely durable yet lightweight and breathable - perfect for long hikes or camping trips at your favorite national parks.
The McLoghlins Shirt Jacket is available in melange jeans. Not to mention, it's machine washable. As a result, there's no need to worry about dry cleaning it after each use.
KINROSS KNIT INSERT NOTCH COLLAR COAT
This coat is perfect for keeping an outdoor enthusiast warm and stylish at the same time. It has a notch collar with a knit insert and a tailored fit that hugs the body without being too tight. It is made from high-quality wool and cashmere blend fabric, ensuring comfort and durability. Moreover, it comes in four different colors, giving you plenty of options. It is lined with polyester, ensuring you remain warm and snug during cold weather.
LATICO LEATHERS KIKI
Latico Leathers Kiki can't miss out on the best outdoor gifts, making them the perfect present for the stylish outdoor enthusiast. This luxurious leather backpack is made of 100% full-grain, water-resistant, and tough leather. It is spacious enough to hold all your daily necessities, such as a laptop, books, and other accessories. The adjustable straps make it easy to adjust the bag to your needs and include a detachable shoulder strap for hands-free carrying. In addition, it has a recessed top zip entry, perfect for keeping your belongings secure. The perfect combination of elegance and utility, the Latico Leathers Kiki bag is a must-have accessory for anyone who loves outdoor adventure.
UASHMAMA OTTI INTERCCIATO BAG
For the outdoor enthusiast who loves to stand out from the crowd, this Otti Intercciato bag from Uashmama is a must-have. This stunning Italian leather bag is both stylish and practical. The cross-body design is perfect for keeping your belongings close, and the internal pockets are great for organizing small items. The back of the bag is lined with organic canvas cotton, while the adjustable and removable shoulder strap offers optimal comfort and convenience. Furthermore, the dual zip closure provides added security, and the gold-tone hardware adds a touch of sophistication.
FRANK & EILEEN KANE OVERSIZED EASY HOODIE
Whether they're lounging around the campfire or exploring the great outdoors, the Kane Oversized Easy Hoodie from Frank and Eileen will keep your outdoor enthusiast warm and cozy. This classic hoodie is made from lightweight, breathable triple-fleece, 100% cotton fabric for extra warmth. It is both stylish and comfortable, and it is perfect for layering during the colder months. The classic white color makes it easy to pair with any outfit. The hoodie is the perfect size for your outdoor enthusiast. They'll never want to take it off.
LILLA P | OVERSIZED RIB BOATNECK SWEATER
Stay warm and stylish with this cozy ribbed boatneck sweater from Lilla P. This oversized sweater is perfect for chilly days spent outdoors. It is crafted from a super soft wool and polyester blend for optimum comfort and warmth. The neutral tones and simple silhouette will perfectly pair with any outdoor outfit. It is the perfect winter companion for your outdoor enthusiast.
OAD STUDIO | BILLY ZIP CARD CASE
This Billy Zip Card Case from OAD Studio is just the thing to help your outdoor enthusiast keep all their essential items close at hand. Crafted from genuine soft pebble leather, this card case has an easy zip closure to keep things secure. The interior features card slots and a slip pocket, so there is plenty of room for cards, cash, or an ID. Perfectly sized to fit in a pocket or purse, it will make a great addition to their outdoor gear collection.
NOT MONDAY MILA CASHMERE CREWNECK SWEATER CHARCOAL
For a truly luxurious outdoor experience, the Mila Cashmere Crewneck Sweater from Not Monday is a perfect choice. This sweater is crafted from the highest quality, ultra-soft cashmere wool and comes in a beautiful charcoal shade. The slightly fitted silhouette gives it a sleek, modern feel, and the ribbed trim creates a subtle texture to add depth to your look. Your outdoor enthusiast will love this stylish sweater's luxurious feel and sophisticated style.
HAILEY GERRITS OSO BRACELET
Show your outdoor enthusiast how much you care with this handcrafted bracelet from Hailey Gerrits. The bracelet is made from four different gemstones and accented with recycled brass beads. It is adorned with fair-trade brass beads made from car parts and plumbing fixtures. This bracelet perfectly reminds you of your love and appreciation for your outdoor enthusiast.
VICTORIA CUNNINGHAM SMALL GOLDEN FLAKE CLUSTER NECKLACE
Add a touch of glamour to any outdoor look with this stunning necklace from Victoria Cunningham. The necklace features delicate golden flakes clustered together in a simple yet eye-catching design. It is the perfect piece to jazz up any outdoor ensemble. The delicate yet bold design will turn heads and make a statement for your outdoor enthusiast.
ANANDA KHALSA OVAL GREEN TOURMALINE NECKLACE
This gorgeous oval green tourmaline necklace from Ananda Khalsa is the perfect gift for the outdoor enthusiast. The shimmering green stone will make a unique addition to any jewelry collection and stand out. The stone's oval cut allows maximum light reflection, giving the necklace an extra sparkle and shine. The stone is set in a gold bezel for added sophistication. This elegant and unique piece is perfect for outdoor enthusiasts who love to make a statement. In addition, the green tourmaline is said to possess powerful healing properties, making this piece a special and meaningful gift for your outdoor enthusiast.
Where Can I Find These Perfect Gifts?
When shopping for the perfect gift for your outdoor enthusiast, you want to find a place that has something for everyone. That's why Phoenix is the perfect place to shop for gifts for the outdoor enthusiast in your life.
They Have an Impressive Selection of Gear and Apparel
Phoenix offers various products for any adventure, from camping equipment to hiking gear and apparel. And with all their items available at unbeatable prices, it's easy to get great value from each purchase. Plus, they offer free shipping on orders over $150, so you can get your items quickly without spending extra money.
Customer- Centric Service
What sets Phoenix apart from other retailers is its exceptional customer service. Whether you're browsing for a gift or asking for advice about an item, the friendly staff will ensure you're taken care of throughout the entire process. In addition, you don't have to worry about paying too much as they always have amazing deals throughout the year.
Community Involvement
Not only does Phoenix have amazing customer service, but they are also heavily involved in local communities. Phoenix demonstrates its commitment to protecting nature while promoting healthy recreation by supporting conservation efforts and creating educational opportunities through sponsorships. This makes them a company worth supporting, as you're giving back with every purchase.
Visit the Phoenix Online Store to Find A Wide Selection of Amazing Gift Choices
Whether your special someone is an avid hiker or camper, an outdoorsy-themed gift can help them discover new experiences and make their next adventure even more fun.
It doesn't matter if they're a seasoned veteran or just starting out; they'll be sure to appreciate any of the picks mentioned above.
Phoenix has everything if you're looking for stylish apparel or functional items. You can visit us at 1514 Wisconsin Avenue NW, Washington, DC 20007, or call (202) 338-4404 for any orders for that special outdoor lover you care about.
---
Leave a comment
Comments will be approved before showing up.