How To Style Jewelry: 5 Simple Steps
Let's be honest. We've all seen some lovely jewelry and bought it without giving it much thought. After a few months, your jewelry box is full of fine jewelry that you rarely wear. If this is the case, it may be time to reconsider your jewelry style.
Knowing your jewelry style is important because it can help you in a variety of situations, from selecting an engagement ring to finding the perfect Christmas gift.
Jewelry, like clothing, expresses our individuality and style. The most difficult obstacle for most people is personalizing their jewelry. Whether you adorn jewelry a lot or wear it occasionally with everyday outfits, it's crucial to know your style. This guide will show you how to style jewelry to make the best first impression.
1) Evaluate your wardrobe
Select your favorite wardrobe pieces from your closet. Examine the styles to see which are dominant. Examine the colors, prints, shapes, fabrics, and silhouettes. Is there anything in common between them? Box shirts with trendy jeans, or flowy tops with floral pints; you'll quickly identify your signature look. Once you figure out the style, determine which jewelry pieces best match it.
2) Keep Track Of Your Routine
Next, keep track of your daily tasks. It may appear difficult at first, but once you begin, you will notice that routine work influences your jewelry selection. A salesperson, for example, would prefer earrings and layered necklaces that draw attention to their faces.
Bracelets and rings would give an outgoing fashion blogger confidence. We're suggesting that you invest in personal jewelry that highlights your best features and complements your daily routine. Finally, the jewelry you wear should make you both look and feel good.
3) Select Your Favorite Pieces
We all have something in our closets and jewelry boxes that we adore. It could be the ring your aunt gave you for your 17th birthday or a one-of-a-kind bracelet from your spouse. Your favorite pieces reflect your natural preferences as a person. Don't be afraid to purchase similar jewelry. It's the most effective way to stay true to yourself.
Not sure what type of jewelry will suit you? Examine your personal style preferences in other areas of your life. Sentimental jewelry is often close to our hearts. You're unlikely to think twice about something similar. Finally, it is what you wear that defines your style, not what others think you should wear.
4) Stick With Your Favorite Colors
It could be any color you want: orange, yellow, or violet. Consider the colors that enhance your appearance, beginning with the color of the last outfit that received the most compliments from friends or family. Which color dominates your closet and why?
A brown dress may appeal to you more because it complements your almond eyes. Green jewelry may make your blue eyes appear deeper. Experiment with contrast or go for a more subtle look with blue and green. Consider what best suits you and enhances your appearance and personality.
5) Keep Trying Out Jewelry Pieces
Don't be afraid to try new things with your jewelry. It's the quickest way to figure out your own personal style. Instead of wearing the same pieces every day, try mixing and matching them. Combine colored jewelry with pastels, casual jewelry with grunge, and formal jewelry with florals and prints.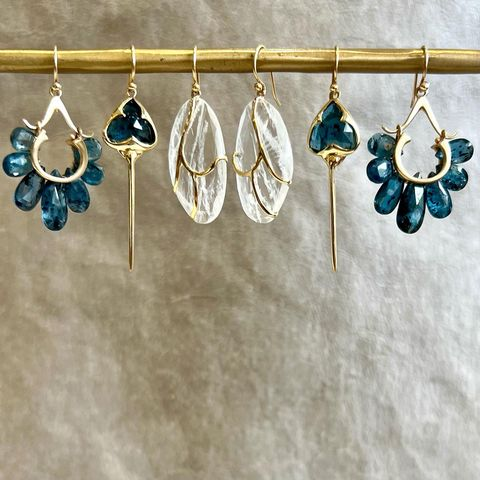 Ever thought of mixing metals? Yes, you can also mix metals when styling jewelry. Add together different rings, bangles, and bracelets with different colored metals. Think about how different colors can complement your skin tone. Keep trying out your pieces until you find a style you can wear regularly.
You don't have to wear the same type of jewelry your entire life. Experiment with new pieces on a regular basis. Remember that your personality, like your fashion preferences, evolves over time.
Tips For Wearing Jewelry
Wearing jewelry, whether statement earrings or multiple, doesn't have to be an ordeal.
Less is more: Don't go overboard and adorn every piece of jewelry. Wearing all of these trendy pieces at once may confuse your look. As there is only one moon in the night sky, there should only be one hero jewelry piece for an elegant look.
Watch your hands: When wearing jewelry, take special care of your hands. Maintain clean and moisturized hands and groom your nails. Wearing large rings or jewelry with colorful manicures or shiny nail paint may not be a good idea...
A statement piece should be unique: Always keep up with fashion trends. Statement jewelry should be stunning. Pearls make formals more appealing, while diamonds elevate gowns. Bangles should match. Bangles are the equivalent of rings for your arms. They make your arms long and sexy. Do not, however, stack bangles on a single hand.
Pay attention to the earrings: Going out? Wear a bold earring. Matching earrings and necklaces can bring out the beauty of your evening gown.
Don't wear rings to a summer picnic that involves some sport. Avoid wearing a necklace stack in the sun, as it can heat up and leave you with unwanted tan lines.
Shop For the Finest Jewelry At The Phoenix
If you want to update your wardrobe or consider styling jewelry, come to our store at 1514 Wisconsin Avenue NW, Washington, DC 20007. You can also shop from the comfort of your own home by visiting our online store.
At The Phoenix, we have a large jewelry collection that includes everything from rings to stud earrings, and bracelets to chunky statement necklaces. We can provide you with statement jewelry, ear piercings, ear cuffs, and fine jewelry pieces that you will enjoy wearing for many years.
Sign up for our newsletter to get exclusive pre-sales, jewelry styling tips, and new collections delivered straight to your inbox!
---
Leave a comment
Comments will be approved before showing up.