River Song Jewelry: Every Piece of Jewelry Tells a Story
The Phoenix is a well-curated lifestyle brand that encourages creativity and a desire to travel. The shop, which is located in Georgetown, D.C., has been in business for over 65 years and has deep roots in the community.
Because of the owner's commitment to sustainability and close relationships with artisans and designers, the jewelry, home goods, and clothing on offer are sourced from eco-friendly, responsible sources.
Jewelry tells an unspoken and silent story about a woman's body. Every piece of jewelry in the shop has a story to tell that goes beyond the wearer's lifestyle or fashion preferences. It expresses who she is, what she is becoming, and what she is experiencing.
The River Song Story
River Song's story started in 2004. River Song jewelry is inspired by nature to capture the essence of the earth. River Burke is a wanderer and a dreamer who is always looking for stories and stones. 
She collaborates with artists in Mexico, India, and Turkey to source fine artifacts and gemstones that are representative of their native cultures and lands. Her jewelry collection exemplifies her profound understanding of true beauty. Each piece, imagined and handcrafted by hand, exudes the magic of true friendship, discovery, and adventure. 
River, as a jewelry brand, creates jewelry with a voice that will one day speak for its owner. With each wearer, the jewelry takes on a new form and life. When jewelry is worn, it becomes part of the wearer's memories. River enjoys what she does because she creates stories that grow in scope after she publishes them.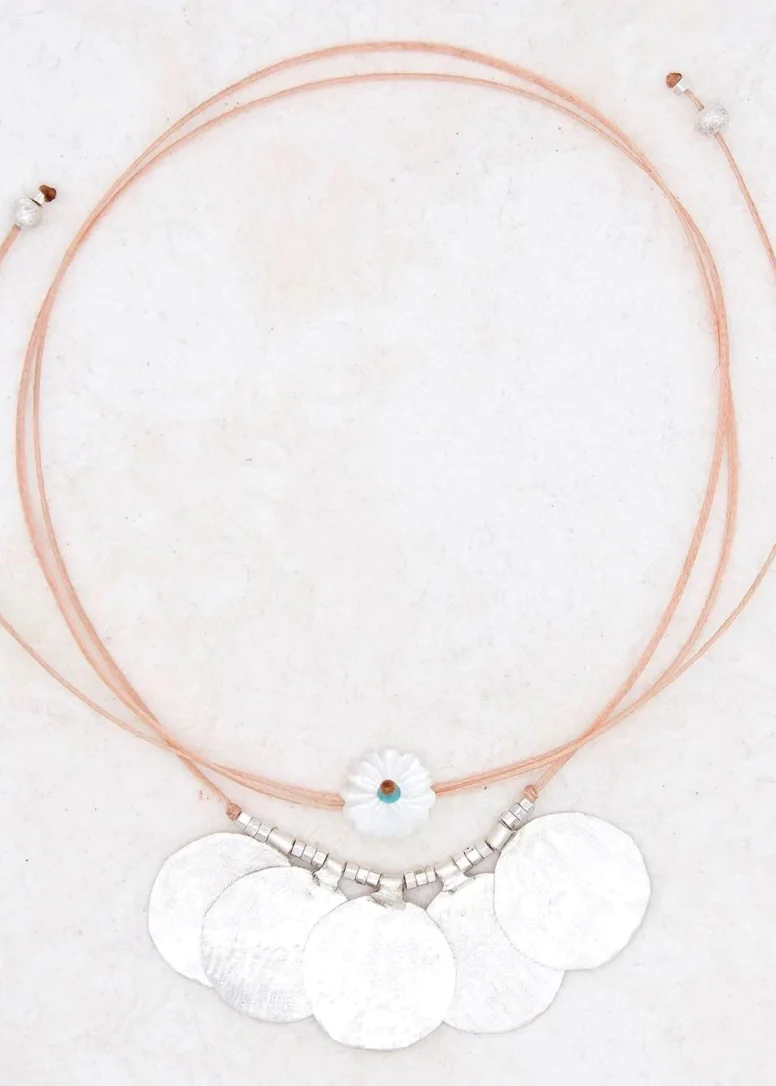 Louis Romero, born and raised in Mexico City, is a self-taught artist influenced by the city's creative, vibrant undercurrent. He moved to Seattle, WA, as a young adult and stayed for 15 years.
Through his paintings, he reimagined his childhood in Mexico and explored his Mexican soul. He and his wife, River, live in San Miguel de Allende, Mexico, where he creates art alongside her. His namesake brand of folkloric art and illustrations are memoirs and storytellers on paper.
River Song Jewelry Collection
River Song's art and life are colored and shaped by a love story and the creative collaboration between two artists. River Song jewelry represents travel, global citizenship, and the joys of discovery. Among the items for sale are the following:
River Song Sweetheart Milagro Hoop Earrings

The Golden Sweetheart Milagro earrings feature 24k gold vermeil over silver, sleeping beauty turquoise detail, and French hooks. 

River Song Wide Talisman Bangle:

This 8mm-wide bangle has a clasp, a dot pattern, and a matte finish.

River Song Gem Dot Studs

These 5mm faceted gem dot stud earrings have sterling silver and black chalcedony, rainbow moonstone, chrysoprase, Indian ruby, or neon blue apatite.

River Song Golden Leaves Black Diamond Earrings

These are 1-inch hand-cut golden leaves with 24-karat gold vermeil over sterling silver, black diamonds, and French hooks. 

River Song Trio Studs

These colorful studs, made of Indian ruby or rainbow moonstone, are 5 mm in diameter and feature 24-karat gold vermeil over sterling silver. 

River Song Slender Talisman Bangle

This is an 8mm-wide dot pattern talisman bracelet made of 24K gold vermeil over silver.

River Song Golden Sweetheart Milagro Necklace

This 26-inch adjustable Milagro on nylon necklace features a flower button closure and 24k gold vermeil over silver.

River Song Rice Talisman Necklace

This 26-inch necklace has hand-rolled grains of silver rice talisman, a flower button closure, and taupe nylon.

River Song Golden Disk Earrings

These are 1.25-inch golden coins with French hooks, 24k gold vermeil over silver, and fire opal detail. 

River Song Green Chalcedony Earrings

These ¾-inch green chalcedony rondels have a labradorite fringe on gold vermeil over silver, fire opal, and French hooks.

River Song Green African Quartz Necklace

This 18-inch necklace has 24k gold vermeil over silver, green African quartz with golden disks, a hook, and eye closure.

River Song Tab Talisman Necklace:

Each hand-stamped talisman bears distinctive Turkish imagery that has weathered over time. Traditional beliefs held that these talismans, strung on a nylon cord with a mother-of-pearl button closure, provided protection to the wearer.

River Song Basket Talisman Necklaces

These 24-inch adjustable necklaces have a basket-shaped talisman on taupe waxed nylon, 24k gold vermeil over silver, and a flower closure. 

River Song Sterling Silver Coin Earring

These are 11/8-inch hand-cut silver coins with a brushed finish. 

River Song Black Tourmaline Quarts Earrings

These are 1.25-inch black quartz drops with 14k gold-filled wire, silver detail, and gold vermeil French hooks. 

River Song Golden Tear Earring

These 1-inch golden tear earrings have a tiny turquoise dot. 

River Song Red Agate Necklace

This is a 17-inch antique red agate necklace with a rectangle talisman, antique turquoise, gold details, and ancient glass. 

River Song Labradorite Planet Earrings

These luminous labradorite planet earrings have French hooks and 24k gold vermeil. 

River Song Silver Leaf and Dot Talisman Bangle

This is a 9mm wide oval talisman bangle with a dot print and hand-stamped leaf. 
Other pieces of inspired River Song art jewelry include:
River Song lapis necklace

River Song silver teardrop necklace

River Song green aventurine fringe earrings

River Song silver rice necklace

River Song silver hoops

River Song andalusite earrings with peach moonstone fringe

River Song wide matte silver bangle

Turquoise ring 

Ripple ring
Wear any of this art-inspired jewelry, as well as other fine jewelry and gemstones from other high-quality brands, to make a statement and demonstrate your sense of style. Shopping for everyday and fine jewelry is a pleasurable experience.
Every woman enjoys making a fashion statement and telling a fashion story. That is why they wear the most fashionable, classic, and modern jewelry available, made of the highest quality materials.
Tell Your Story with the Best Jewelry for Women in Washington, DC
Are you looking for handmade necklaces, earrings, bracelets, bangles, rings, or any other fashion jewelry or designer accessory? If so, visit The Phoenix in Washington, DC, and check out our fantastic jewelry collections.
We source fine jewelry and exquisite handmade jewelry imbued with the magic of new friendship, discovery, and adventure, with a strong sense of wanderlust.
Our freshwater pearls, metals, jewels, bead ornaments, talismans, and one-of-a-kind relics are inspired by their indigenous cultures and lands. They represent a greater appreciation for meaningful storytelling and beauty.
---
Leave a comment
Comments will be approved before showing up.